Cryptocurrencies are minting new millionaires faster than any other asset class in history have. Period.
Blockchain, the backbone of cryptocurrency and expected to become the biggest market disrupter ever, is creating incredible wealth for some investors and generating massive returns.
A $1,000 investment in Bitcoin in 2010 would have earned you $35 million by mid-2017, although that would have dropped back a bit since then.
FOMO (fear of missing out) is an epidemic at this point, but most investors don't understand crypto… or the blockchain… or even how to invest in these new assets.
But those who missed the first crypto run up are dying to get in on the most exciting market sector of our time can now do it in their portfolio.
How? (CSE: BLOC; OTC: BLKCF) is a publicly traded blockchain "hedge fund" and "incubator" that you can purchase with a few clicks in your online brokerage account.
It doesn't get any easier than this, but it does get better:
The company, Global Blockchain Technologies Corp. (CSE: BLOC; OTC: BLKCF), is the brainchild of the same man who co-created the $100 BILLION dollar Ethereum project, Steven Nerayoff.
(Click to enlarge)
Not only are they investing in crypto projects (as one expects a hedge fund to) …
But they are also incubating blockchain companies.
Again…
You don't need to know anything about Bitcoin… blockchain… or have your own crypto investing system…
Because you can add Global Blockchain to your portfolio with just a few clicks, and let the only publicly traded crypto investment team do the work for you.
This is a stock not many people know… but will soon. Here's why…
5 Reasons to keep a close eye on Global Blockchain Technologies (CSE: BLOC; OTC: BLKCF) right now:
#1 How Blockchain Works (for YOU)
Tech heads can explain how the blockchain works until they're blue in the face, but for many would-be investors it still seems complicated.
Knowing that helps, but this fact helps even more: You don't need to be a blockchain expert to reap the rewards.
Global Blockchain has put together a core team that aims to be "incubating" 12 or more new digital currencies every year. This means that Global Blockchain will be providing the funding for these new currencies in return for an equity stake and a significant percentage of the founders tokens.
And it isn't just any team: There is some serious blockchain power at work here.
Again, this is all headed up by the Nerayoff, the co-creator of Ethereum.
If you've been living under a rock, it's time to crawl out: Ethereum has gained over 357,000 percent since its launch, with Nerayoff as its advisor. He was also a senior advisor to the Lisk Cryptocurrency project which now has a market cap of over 2 billion dollars.
And he's not alone:
– Global Blockchain's Rick Willard is the co-founder of the Silicon Valley Blockchain Society and an advisor to Luxembourg on blockchain initiative.
–  Kyle Kemper is the executive director of the Blockchain Association of Canada.
– Jeff Pulver has consulted and invested in 350 startups.
– Michael Terpin is the managing partner of the first blockchain incubator in the world and founded Marketwire, which sold to Nasdaq in 2006 for $200 million.
Bottom line? Let the experts do everything for you.
You don't have to conquer the blockchain, figure out how to "mine" any coins by solving math problems with a computer "rig", or even try to wade through the risky sea of 1,400 cryptocurrencies or questionable ICOs.
But you will get exposure to what could turn out to be the top tokens…
#2 Average Gains of Top Tokens Will Blow Your Mind
Large-cap cryptocurrencies, or tokens, like Bitcoin, Ethereum and Ripple will continue to lead the crypto space for now. And the path to leadership has been unbelievably rewarding.
Bitcoin gained over 1,300 percent last year; Ripple gained a whopping 36,000 percent, and Ethereum gained over 9,000 percent.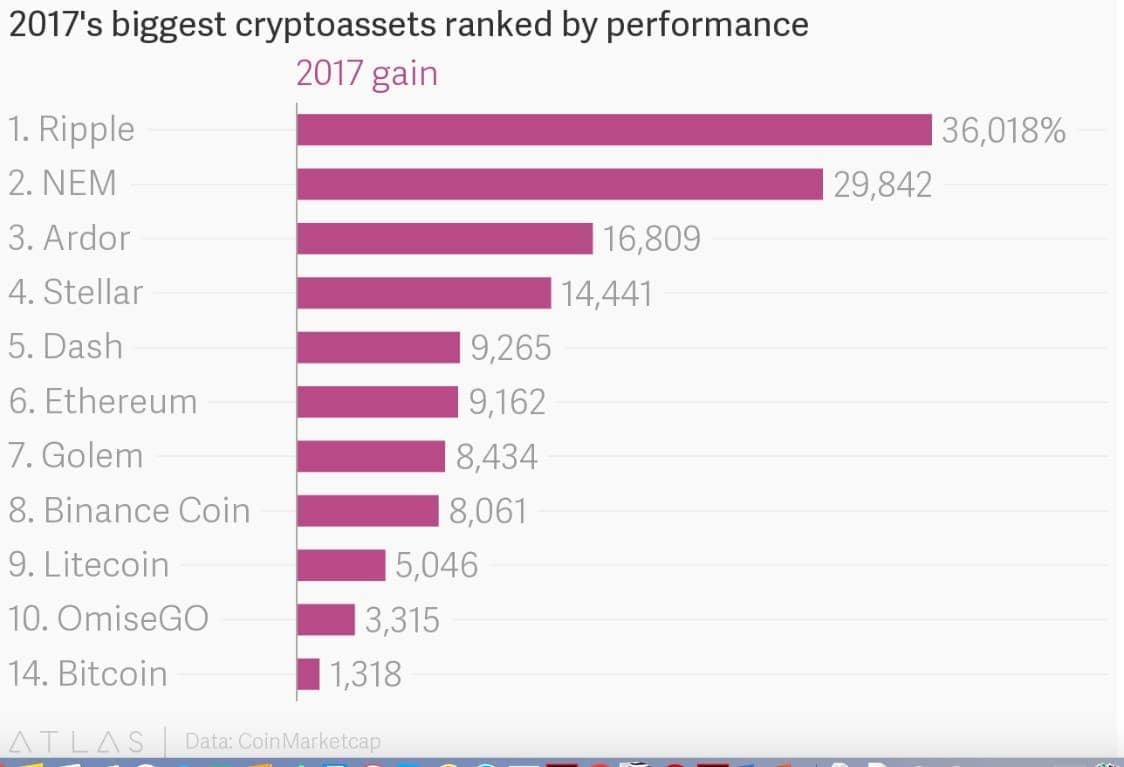 (Click to enlarge)
That means that if you had made a $1000 investment at the beginning of last year in Ripple (which is only around $1 per coin compared to Bitcoin's $10,000+), your investment would have increased half a million by year's end.
#3 Diverse Investment Flanks Crypto on All Sides
But it's not just about getting exposure to the potentially top tokens…
Global Blockchain's (CSE: BLOC; OTC: BLKCF) strategy goes beyond that. In fact, it's key attraction is exposure to even bigger potential gains.
Not only does it give you exposure only to the top trading tokens, but also early-in, exclusive access to the tokens that are expected to trade in the future. It invests in large-cap, small-cap and pre-ICO/ICO tokens all at the same time.
The returns on investment for small-cap tokens have been extraordinary, and this is just a snapshot of some of the top 25:
(Click to enlarge)
(Source: Cryptocurrencychart.com)
And beyond this, there is huge potential for future growth.
So far this year, some small-caps have been outpacing large-cap gains:
(Click to enlarge)
(Source: Coindesk.com) (NOTE: "Price Today" in chart above refers to an article from Coindesk.com dated January 4, 2018, after market close).
These are the precisely the types of tokens Global Blockchain is targeting. Bitcoin is the 'gateway drug' to other cryptocurrencies, and to Bitcoin-sized returns for early-in investors.
But Global Blockchain's team have special insight because of their connections in the industry.
Exposure gets even juicier through Global Blockchain with access to pre-ICO and ICO tokens.
ICOs (initial coin offerings—the crypto world's answer to the initial public offering, or IPO) exist in a murky world that is difficult to navigate without the expertise of people like Nerayoff and his core team.
ICOs are sort of the "wild west" of the cryptocurrency world and are best left to the connected experts in the crypto space… and Global Blockchain knows the difference. After all, they are ICO masters with Ethereum and others to back them up.
#4 Way Beyond Coin: A Major Blockchain Upside
Even tokens and ICOs doesn't represent the entire game here: Global Blockchain (CSE: BLOC; OTC: BLKCF) is also building a portfolio of startups focused on blockchain-based services. That means acquiring … and tokenizing software that could further benefit blockchain.
One of the first projects they invested in that gained international exposure was Kodak One, a blockchain solution for this age-old company that needed serious resuscitation.
The result? The stock price of Kodak jumped an astounding 321 percent.
And then there's their partnership with Overstock.com (NASDAQ:OSTK) and its tZero subsidiary.
Blockchain—and its rewards—are only limited by the imagination.
Every industry in the world is about to be upended by blockchain, and the gaming industry is just one of them: Exciting things are afoot as Global Blockchain plans to tokenize gaming platforms too.
And with a game like Second Life having a virtual economy of $500 million, there is plenty of opportunity for an 'incubator' looking to bring the best blockchain startups to the market.
We have seen big announcements from Global Blockchain over the past weeks.
#5 Expect Announcements from Global Blockchain
Headed up by Ethereum's co-creator, Global Blockchain (CSE: BLOC; OTC: BLKCF) is aiming to become a multi-billion dollar crypto hedge fund and incubator…
And you can't get this kind of market exposure anywhere else.
So, judging by the past few weeks of announcements, not only can you expect a series of announcements on portfolio purchases, ICO investments and blockchain acquisitions…
But you can also expect series of announcements on exclusive token deals you can't get access to through any other instrument.
A couple clicks with your online broker, and you've got a piece of the crypto universe hand selected by some of the brightest and most connected minds in crypto.
The potential in this current US$64 million market cap company is truly unparalleled for diversity in this industry.
The time to pay attention is now because over the coming weeks, with each new announcement, this company could become an industry darling.
In short: Global Blockchain (CSE: BLOC; OTC: BLKCF) should be on the radar of anyone who wants intelligent exposure to the crypto space.